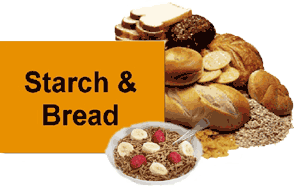 includes Cereal, Rice, Grain, & Pasta. One food item (or serving) from this group is equal to:

4 gm Protein

0 to trace gm Fat

15 gm Carbohydrate

80 Calories

Cereals, grains, pasta, breads, crackers, snacks, starchy vegetables, and cooked dried beans, peas, and lentils are starches.
In general, one bread or starch is equal to:

½ cup of cereal, grain, pasta, or starchy vegetable,
1 ounce of a bread product, such as 1 slice of bread,
¾ to 1 ounce of most snack foods. (Some snack foods may also have added fat.)

Nutrition Facts.

Most starch servings are good sources of B vitamins.
Foods made from whole grains are good sources of fiber.
Dried beans and peas are a good source of protein and fiber.

Selection Tips.

Choose starches made with little fat, as often as you can.
Starchy vegetables prepared with fat count as one starch and one fat.
Bagels or muffins can be 2, 3, or 4 ounces in size and can, therefore, count as 2, 3, or 4 starch servings. Check the size you eat.
Dried beans, peas, and lentils are also found on the Meat and Meat Substitutes list.
Regular potato chips and tortilla chips are found on the Other Starch list.
Most of the servings sizes are measured after cooking.
Always check Nutrition Facts on the Food Label.
Bread, Starch, and Carbohydrate Group

includes Cereal, Rice, Grain, & Pasta. One food item from this group is equal to:

Food Item

Serving Size

Breads

Bagel
½ (1 oz)
Bread, reduced-calorie
2 sl (1½ oz)
Bread, white, whole-wheat, pumpernickel, rye
1 sl (1 oz)
Bread sticks, crisp, 4 in. long x ½ in.
2 (⅔ oz)
English muffin
½
Frankfurter/Hamburger bun
½ (1 oz)
Pita, 6 in. across
½
Roll, plain, small 1
1
Tortilla, corn, 6 in. across
1
Tortilla, flour, 7-8 in. across
1
Waffle, 4½ in. square, reduced-fat
1

Cereals, Grains, Rice, and Pasta

Bran cereals
½ cup
Bulgur
½ cup
Cereals, Generic, unsweetened, ready-to-eat
½ cup
Cornmeal (dry)
3 Tbsp
Couscous
⅓ cup
Flour (dry)
3 Tbsp
Granola, low-fat, Grape-Nuts
¼ cup
Grits, Oats
½ cup
Kasha
½ cup
Millet, Muesli
¼ cup
Pasta
½ cup
Puffed cereal
1½ cup
Rice milk
½ cup
Rice, white or brown
⅓ cup
Shredded Wheat
½ cup
Sugar-frosted cereal
½ cup
Wheat germ
3 Tbsp

Dry Beans, Peas and Lentils (Count as 1 starch, plus 1 very lean meat)

Beans and peas (garbanzo, pinto, white, split, black-eyed, kidney)
⅓ cup
Lima beans
⅔ cup
Lentils
½ cup
Miso
3 Tbsp

Starchy Vegetables

Baked beans
⅓ cup
Corn or Corn on cob
½ cup or 1 med (5 oz)
Mixed vegetables with corn
1 cup
Peas, Green Peas
½ cup
Baked beans
⅓ cup
Plantain
½ cup
Potato, baked or boiled
1 small (3 oz)
Potato, mashed
½ cup
Squash, winter (acorn, butternut)
1 cup
Yam, sweet potato, plain
½ cup

Crackers and Snacks

Animal crackers
8
Graham crackers, 2½ in square
3
Matzo
¾ oz
Melba toast
4 sl
Oyster crackers
24
Popcorn (popped, no fat added) or Low-fat microwave
3 cups
Pretzels
¾ oz
Rice cakes, 4 in. across
2
Saltine-type crackers
6
Snack chips, fat-free tortilla, potato)
15-20 (¾ oz)
Whole-wheat crackers, no fat added
2-5 (¾ oz)

Starch Foods prepared with Fat (Count as 1 starch, plus 1 fat, 125 cal)

Biscuit, 2½ in. across
1
Chow mein noodles
½ cup
Corn bread, 2 in. cube
1 (2 oz)
Cracker, round butter type
6
Croutons
1 cup
French-fried potatoes
16-25 (3 oz)
Granola
¼ cup
Muffin, small
1 (1½ oz)
Pancake, 4 in. across
2
Popcorn, lightly buttered, microwave
3 cups
Sandwich crackers, cheese or peanut butter filling
3
Stuffing, bread (prepared)
⅓ cup
Taco shell, 6 in. across
2
Waffle, 4½ in square
1
Whole-wheat crackers, fat added
4-6 (1 oz)