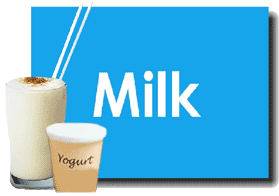 A Great Source of Calcium
The amount of fat in milk is measured in percent buttermilk. Based on the amount of fat, milk is divided into three groups. One cup or one serving from each of the groups contain the following nutrients:
Type of Milk
Protein
grams
Fat
grams
Carbohydrates
grams
Calories
Food Groups
Milk, Skim or Very Low Fat
8
1
12
89
1 milk serving
Milk, Low Fat
8
5
12
120
1 milk and
1 fat serving
Milk, whole
8
8
12
150
1 milk and
1.5 fat serving
It is recommended you choose milk listed under Skim and Low fat categories. These are lower in fat and calories. If you have an intolerance to milk, you can substitute 1 ounce of medium-fat meat or leaner per each serving of milk.

Skim and Very Low fat Milk

1 cup Skim Milk
1 cup Evaporated skim milk
1/2 cup 1/2 % milk
1 cup Dry nonfat milk
1/3 cup 1 % milk
1 cup Plain nonfat yogurt
8 oz Low fat buttermilk

Low fat Milk

1 cup 2 % milk Acidophilus
1 cup 2 % milk
8 oz Plain low fat yogurt

Whole Milk

1 cup Whole Milk
1 cup Soy milk
1 cup Evaporated whole milk
8 oz Whole plain yogurt

Read the Nutrition Label. Check the Fat Content.